"Night of the Punks"
Directed & Procuced by - Dan Riesser
Genre: Horror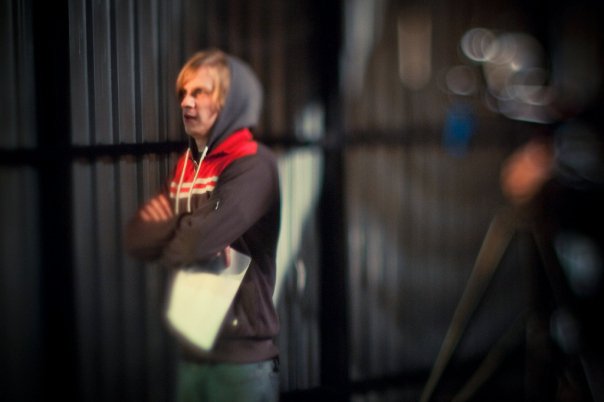 What was your inspiration for the story?
I grew up listening to punk rock and playing in punk bands, and I really wanted to make an 80's style punk rock horror film, along the lines of some of my favorite horror flicks like "Return of the Living Dead" and "Night of the Demons." A band I sang in had played a show at a venue called The Blue Star in downtown LA, we had friends with contacts there, and the story idea was sort of born out of wanting to shoot a short film there.
What was the funniest or most fun experience during the production?
Shooting the live performance sequence was pretty fun. We had all our "demon punks" in full makeup, the band on stage, lights going crazy, playback blasting, two cameras running. It was all pretty chaotic. Also shooting any of the big special FX gags was a blast, it's always fun to splatter blood and ooze everywhere, and my makeup guy did some great effects that were fun to watch happen on set.
What was your most challenging or worst experience during production?
On one of our busiest nights of shooting at the venue downtown, my gaffer/camera operator erased over one of the memory cards (we were shooting digitally on a Canon Mark II 5D). We thought we'd lost all our footage so far from that night. I was pretty miserable at that moment. But luckily, my sound man Barry had a data recovery program handy that got us all but one shot back. We dodged a bullet there.
Tell us a little bit about how you got into filmmaking, and how you made your very first film.
It was something I'd always wanted to do, but I didn't really think of it as a career until college. I made a lot of random videos with friends growing up, but didn't really get serious about it until I started taking classes in college. What I consider my first legitimate "short film" was a little thing I made with my buddy Jon Reiling our sophomore year for about $50. What are your aspirations and dreams for your future as a filmmaker? I want to write & direct features. Not necessarily horror, but it's definitely the genre I gravitate towards.
http://www.nightofthepunks.com
http://www.irrationalfilms.com
http://www.twitter.com/irrationalfilms
http://www.danriesser.com

WATCH THE FULL MOVIE BELOW