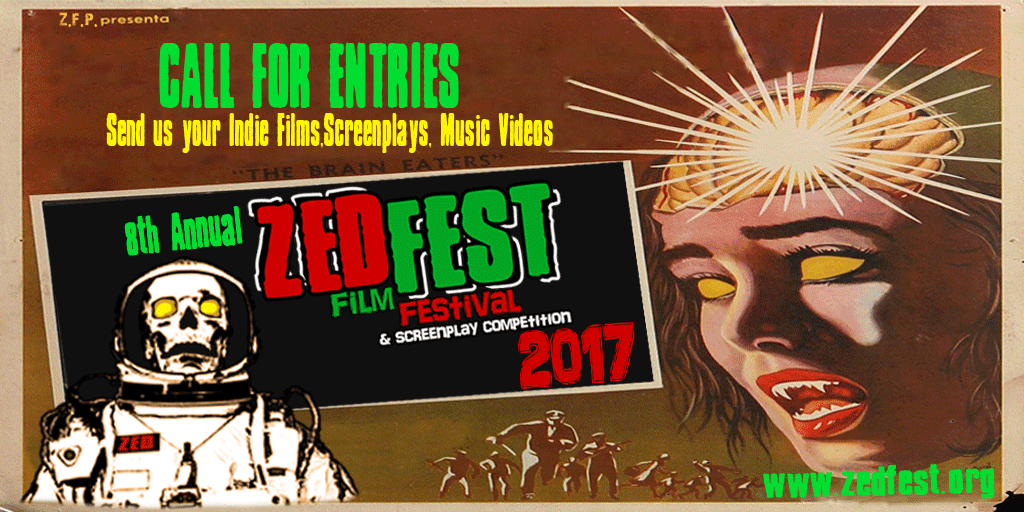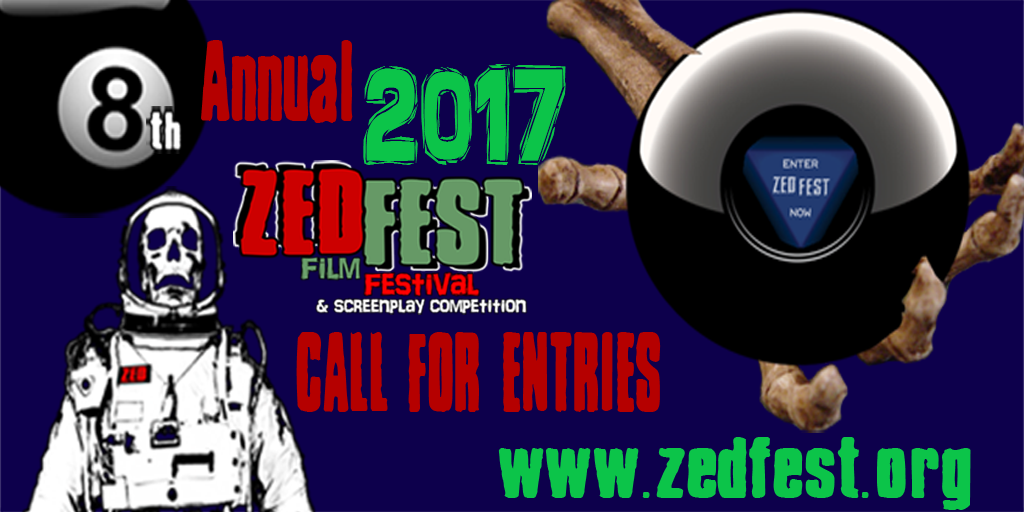 8th Annual Zed

Fest

Film Festival & Screenplay Competition 2017
Final Deadline Film is Sep 22, 2017

ENTER

HERE

ENTER

HERE
8th Annual Zed Fest Film Festival Dates - Oct 31, Nov 1,2, 3, 2017 7pm-12:30 am,
Laemmle's NoHo 7 Noho Arts District
5240 Lankershim Blvd, North Hollywood, CA 91601
7pm-12:30 am
And
Acme Noho 
5124 Lankershim Blvd, North Hollywood, CA 91601
Closing Night Party Friday Nov 3rd 2017, 730pm-12am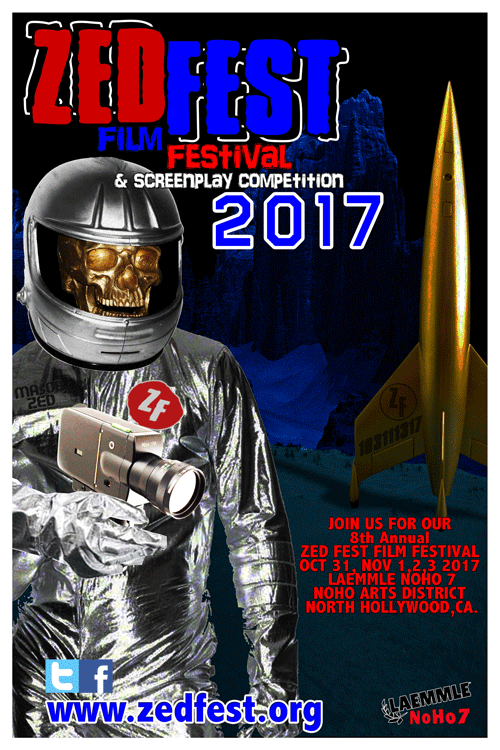 Full Festival Pass:
October 31st - Nov 3rd 2017
All Film Festival Pass: 4 Nights, All Indie Film Block
& Pizza Party Pass
Buy A Full Festival Pass!
($100.00)
Closing Night Movies & Pizza Party Pass!
Acme Noho 
5124 Lankershim Blvd, North Hollywood, CA 91601
Friday Nov 3rd 2017, 730pm-12am
($12.00)

8th Annual

Zed

Fest

Film Festival 2017 Official Selections
| | | | |
| --- | --- | --- | --- |
| Feature | DIRECTOR | PRODUCER | Country |
| | | | |
| | | | |
| | | | |
| | | | |
| | | | |
| | | | |
| --- | --- | --- | --- |
| Featurette | DIRECTOR | PRODUCER | Country |
| | | | |
| | | | |
| | | | |
| | | | |
| --- | --- | --- | --- |
| SHORT | DIRECTOR | PRODUCER | Country |
| | | | |
| | | | |
| | | | |
| | | | |
| | | | |
| | | | |
| --- | --- | --- | --- |
| Super Short | DIRECTOR | PRODUCER | Country |
| | | | |
| | | | |
| | | | |
| --- | --- | --- | --- |
| Music Video | DIRECTOR | PRODUCER | Country |
| | | | |
Zed

Fest

Film Festival & Screenplay Competition 2017
Like us on Facebook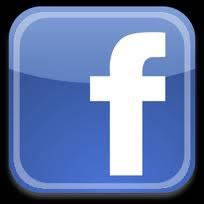 Follow us Twitter

$5,000.00 total value in Cash Awards & Prizes
(Cash awards and prizes are shared among selected winners)
| | | |
| --- | --- | --- |
| | | |
| ENTER | | HERE |
| | | |
| ENTER | | HERE |
Zed
Fest
Film Festival & Screenplay Competition was founded to encourage and support independent low and big budget, filmmakers, who work in the horror, suspense, science fiction, drama,action, adventure, and art house genres.
After participating in Zed Fest Film Festival, many of our filmmakers have been able to advance their careers develop their next projects. We take pride in the fact that we are able maintain relationships with participants, to encourage and help them develop and promote their future endeavors.
Our Top prize PHIL TUCKER SPIRIT award (Named after Indie Film Making Pioneer Director Best known for Directing Robot Monster in 3-D ~1953)
Zed Fest Film Festival ~ Mary Pickford Award~
This Award is to Highlight Women in The Film Arts. "The Mary Pickford Award" Is Named In honor the Great Mary Pickford Silent Film Pioneer.
You can enter our Zed Fest Film Festival and to be considered for this award. If you have directed, produced or co-produced, written a screenplay.
Mary Pickford was a Canadian-American motion picture actress, co-founder of the film studio United Artists and one of the original 36 founders of the Academy of Motion Picture Arts and Sciences.
In addition she starred in countless films,including several in the Action Genre making her one of the first action film stars. She produced many of her films having started in film acting as child she understood the medium better than most and knew early on that artists in film needed to be protected and have more control over their work. She also was instrumental in archiving early silent films, including Charlie Chaplin Films.
Zed Fest Film Festival ~ Golden Marquee Awards For Top Feature and Short Film
The Zed Fest Film Festival Golden Marquee is awarded each year to the feature film and short film that display exemplary technical proficiencies in filmmaking and storytelling.
WE HOPE TO DISCOVER THE CULT MOVIES OF THE FUTURE...
Zed

Fest

Film Festival & Screenplay Competition Sponsors

Quick Film Budget is the first technology to automate the film budgeting process. It saves filmmakers TIME and MONEY. Create a customized professional film budget in a matter of minutes -- for a fraction of what it costs to hire a line producer. It handles everything from short films to micro-budget features to studio franchises. Just answer key questions about your film project and Quick Film Budget instantly generates your film budget and delivers it to your inbox IN MINUTES! Then, you can further customize the budget as your film proceeds through pre-production. Quick Film Budget is not just a software, it's a service that helps support filmmakers get into production.

Movie Magic Screenwriter


Movie Magic Screenwriter is the best selling screenplay formatting software and the choice of Hollywood professionals. Screenwriter automatically formats while you write so you can focus on what you're writing, not where it goes on the page. It also formats for television, stage, novels and comic book scripts so you've got an all in one package for any story you want to write. With a massive set of features designed to make the rewriting process fast and simple you can get from FADE IN: to FADE OUT effortlessly. Integrated outlining, online collaboration, the ability to compare drafts of screenplays and the most comprehensive production features of any screenwriting software all make Movie Magic Screenwriter the clear choice for getting your stories from concept to screen.

We are the Revolution.

Representing the evolution of cinematic storytelling, we personally showcase in-depth educational training modules and high-end production work ensuring a smooth production from start to finish in this new digital realm. This allows you to focus on the story while we worry about the technicalities. From Hollywood blockbusters to student filmmakers, we work with every budget and every story.

Get your scripts in front of producers, agents, and managers today.

Writers use InkTip every day to connect with industry professionals looking for writers to hire, scripts to produce and writers to represent. Whether you're breaking into the industry or are an established writer, InkTip can help you further your career.

InkTip Script Listing: A listing of your script on InkTip so that producers and reps can find you.
InkTip Magazine: Publication of your logline in InkTip's magazine sent to nearly 15000 producers and reps.

Looking for a way to pitch your idea for a television show or movie? 

iPITCH.TV offers a next generation platform for creators of original pitches for TV, Film & Digital Media to connect directly with Hollywood Producers and Studio Executives and gives creators industry pro advice on how to pitch a television show or feature film. Pitch your idea for a Movie, Screenplay, Television Show, Short Film, New Media Project and more.

Virtual Pitch Fest was created in 2005 by producer David Kohner Zuckerman and screenwriter Katie Coyle.

When meeting at the LA Screenwriting Expo, Katie and David noticed the long lines of writers waiting to pitch Hollywood pros without any assurance their material would ever get read. It also seemed attendees ran the risk of being judged on their showmanship, rather than the quality of their writing. In talking further, the duo soon realized they could eliminate these downsides, plus the costly travel and conference fees writers were paying for live pitch events.

A year later, VPF was launched with one simple pledge: that query letters sent to Pros you pick would all be answered within 5 business days. Now in its eighth year, the site has many success stories and thousands of writers continue to enjoy VPF's guaranteed access to Hollywood Pros.

Cinema Secrets has spent the past 25 years as one of Hollywood's best kept secrets. We're dedicated to educating makeup artists and the public in the proper use of professional cosmetics.



© 2010 - 2017 Zed Fest Film Festival & Screenplay Competition
TOP SPONSORS








FESTIVAL SUPPORTER